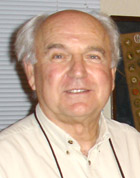 by John Shackford
Recently there was an inquiry by a gentleman on OKBIRDS@LISTS.OU.EDU about where to look for Northern Saw-whet Owls (Aegolius acadicus) in Oklahoma. There are only a very few saw-whet records for the state, so finding one is a tough mission. Below is information and guidance that I hope may have some value for the mission, as well as be informative.
Thirty-four years ago I saw my first Saw-whet Owl in Oklahoma—or anywhere. This was also the last saw-whet I have ever seen. Some days you just get lucky and this was one of my luckiest.
I used to play a simple game that had to do with the Christmas Bird Count: I would try, personally, to find 100 species of birds in the month of December in our count area. Usually, by count day, I had about 95 species on my list and I might add 3 or so more on count day. This would put me just shy of the 100 species I was trying to reach. But by the time of the CBC I already had a really good idea of what birds were in our count area that particular year and what ones probably weren't—the real purpose of the game in the first place. So I seldom if ever sought out the final few species that would have made my list 100.
The Saw-whet Owl day occurred on 25 November 1979. I was doing a little pre-count scouting before starting my pre-count game (are you getting confused yet?). That day I was working an area about ½ mile north of the Lake Hefner dam and east of Meridian. There was a moderate ravine with quite a number of cedar trees in it. As I approached one tree I clapped my hands and a small owl flew out that I did not think was an Eastern Screech-Owl. It landed in another nearby cedar about 3 feet high where I approached it closely and could see that it was a Saw-whet Owl. Over the next 2 days this bird was seen by about 10 of us and photographed by about 4 of us; we did not see the bird thereafter.
The bird returned to its original roosting spot later that first day, where I noticed whitewash on the ground below. This indicated to me that the bird may have been there for a few days, but probably not many. The bird roosted about 3-4 inches from the main trunk of the cedar and about 6 feet high as I remember: thus it roosted low in the tree—one of the few things that can be relatively easy about finding this species. Almost everything else about finding it is difficult to overcome: small, nocturnal; dense evergreen habitat; and likely low density in Oklahoma, although there almost surely are more around than the handful of records for the state would lead one to believe.
In reading Bent (1961, Life histories of North American birds of prey, part 2, p.239) I found the following sentence, quoting an earlier publication by Bendire (1892) that may be helpful in searching for the saw-whet: "They seem to be especially fond of dense evergreen thickets in swampy places or near water courses." One other thing from Bent (1961) seemed particularly good to pass along: "Except by some chance encounter [like mine!]…even the keenest human eyes are not likely to discover this diminutive owl, perched silent and motionless in dense foliage, unless its presence is indicated by the excited activity and noisy protests of its small bird enemies, such as sparrows, warblers, chickadees, and kinglets, that always show their hatred and fear of all owls." So check out those groups of fussing little birds when you see them—and keep saw-whet in mind.
One other probable saw-whet was seen years ago in Oklahoma City. John Newell, as all who knew him will attest, was a very careful reporter of what he saw and heard from others. John once related to me that someone he knew had seen a small owl in an evergreen bush in that person's yard; John quizzed him about what it looked like, and John was convinced that it was most likely a Saw-whet Owl. Of course John never reported it officially, but I trust that John, using the great care he always exhibited, made the correct call.