LOCATION: Rose Lake – Yukon
Contributed by Patricia Velte
35.53309 N 97.70682 W
Rose Lake is located near Northwest 63rd and Sara Road in Yukon
(From Tulsa Audubon Society's "A Guide to Birding in Oklahoma.")
Rose "Lake" is not really a lake but an area prone to flooding if there has been sufficient rain which floods the adjoining bottomland fields. It is reached by driving west on US 66 past Morgan Road to Sara Road. Turn north on Sara Road and continue to NW 63 where Sara Road ends. Much of this road is sand and gravel and can be muddy and soft from rains and heavy truck traffic. In spring and late July through September, if flooding has occurred, shorebirding is fantastic and hundreds of herons and egrets may be feeding. Over thirty species of shorebirds visit Rose Lake every year when conditions are favorable. During years when water covers it for longer periods cattail growth has attracted nesting coots, Common Moorhens, Pied-billed Grebes, and Least Bitterns. During migration hundreds of Yellow-headed Blackbirds and dozens of Bobolinks may be seen in nearby fields along NW 63rd and NW 50th streets.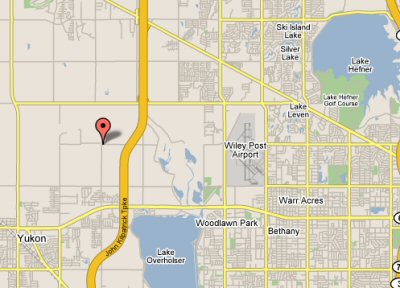 Perhaps its location about 3 miles northwest (as the bird flies) from Lake Overholser is part of its appeal to migrants. I've wondered if they're drawn to Overholser's large water mass but then find Rose Lake's very shallow and marshy areas more to their liking. Birders frequently report a wide variety of sandpipers at Rose Lake during spring and fall migration. It's very easy to pull over along the gravel road and watch White-faced Ibis; Little Blue Heron; Snowy, Great and Cattle Egrets; Wilson's Snipe; Avocet; Yellow-crowned and Black-crowned Night-Herons; Mississippi Kite; Red-tailed Hawks, Osprey, gulls and terns.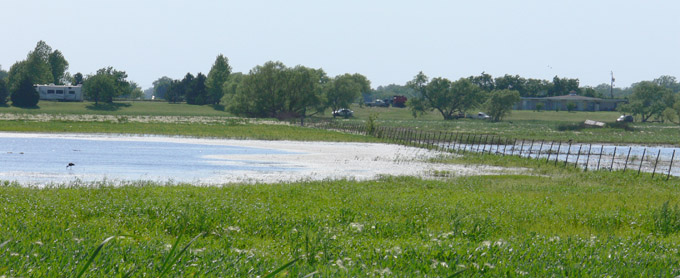 If you continue east on 63rd Street, you'll find open fields that attract hawks, harriers and kestrel. 63rd Street ends at Morgan Road and it's an easy trip to Lake Overholser if you turn south for two miles and cross 39th Street Expressway (Route 66).