LOCATION: Eldon Lyon Park (Bethany, OK)
Contributed by Feodora Steward
35.51059 N 97.64139 W
Description:  A well maintained 60-acre walking park with paved paths throughout, located two blocks west of Rockwell Avenue on 36th Street. Primarily mature oak trees, some sycamore elm, pine and a grove of honey locusts. The park is surrounded by mature trees on three sides with large open spaces centrally located.
Directions: Go north from Interstate 40 at Rockwell Exit to 36th Street. Turn left (west) two blocks. Ample parking. Restrooms in pavilions.
Year Round: Red-headed, Downy and Red-bellied Woodpeckers; Blue Jay, Mockingbird. Robin, Starling, Cardinal, Northern Flicker, Common and Great-tailed Grackles, Canada Goose, Mourning Dove, Rock Pigeon, American Crow, Red-tailed Hawk, House Finch, Mallard, Carolina Chickadee, Tufted Titmouse.
Spring & Summer: (Nesting) Red-headed Woodpecker, Western Kingbird, Mississippi Kite, Scissor-tailed Flycatcher, Blue Jay, Robin. (Occasional / Migrating) Eastern Kingbird, Oriole, Eurasian Collared-Dove, Little Blue Heron, Eastern Bluebird, Chimney Swift, Brown Thrasher, Field and Chipping Sparrows, Snowy Egret, American Pipit.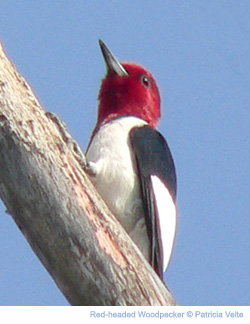 Winter: Sharp-shinned Hawk, Yellow-bellied Sapsucker, Dark-eyed Junco, Harris's, Song and White-throated Sparrows; Carolina Wren, Brown Creeper, Red-breasted Nuthatch.
Listed species were observed by contributor during the past 2-3 years excepting American Pipit which was observed 4 years ago.
Other birding opportunities: Lake Overholser is located approx. 2.5 miles from Eldon Lyon Park. Travel west on 36th Street to access the trails and east shoreline of Lake Overholser. Stinchbomb Wildlife Refuge is located approx. 3 miles from the Park. Travel north on Rockwell to Northwest 50th, turn west and travel approx 1.75 miles to the parking area for access to the eastern side of the Wildlife Refuge.

Related links: