by Jimmy Woodard
35.4848214,-97.3937502
Mid-America Kiwanis Park is located in Midwest City, north of the intersection of NE 10th and Midwest Blvd. The original area of the park comprised 16.18 acres. With the addition of newly acquired land, the park now covers 47.5 acros.
This park has a lot of potential, with the potential to be better than Joe B. Barnes Park,  mainly because it has better riparian habitat along Soldier Creek and an  unnamed tributary on the west side of the park.
There are dense stands of deciduous trees around the borders of the park but the north/main part of the park is open with scattered trees allowing a clear view of the sky. The park is under development; the next new addition will be an 18-hole disc golf course which should begin building sometime next year. Midwest City officials assure that a minimal amount of trees will be removed for the holes going thru the undeveloped part of the park. They plan to remove the deadfall trees in these areas. This should allow birders more access to the denser tree cover.
As for parking, there isn't much. The best suggestion would be to park at the convenience store at the northwest corner of NE 10th and Midwest  Blvd. There are three closed businesses with parking just to the north of the store. They are between the Salisbury Park part and Midwest Blvd. Long range plans are to build a parking area on Midwest Blvd just south of the Voice of Hope Church you see on the west side of the road. This isn't planned or funded as of now but could possibly be built in the next few years.
Parking on the west side of the Mid-America park is as follows:  1) There is a short spur of Cambridge Road that dead ends at the park just east of  Shadybrook Road. A sign says no parking but everyone parks here including the city officials just a few weeks ago when they dedicated the new bike trail.  2) Another spur stops at the park on Bella Vista Drive just north of Campbell Road.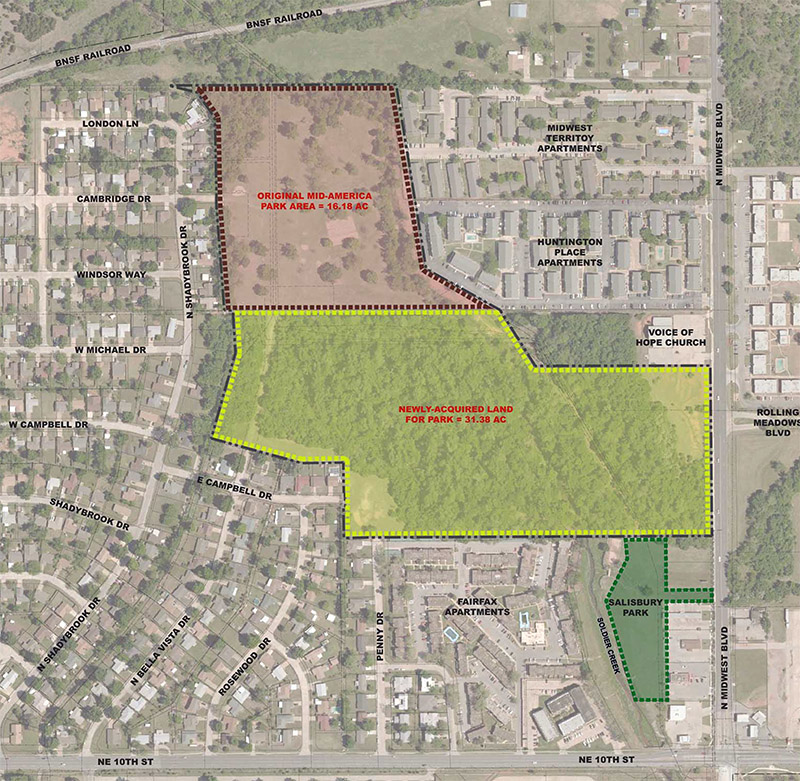 An initial list of bird sightings from a single visit during late Fall 2019:
Wild Turkey  14
Rock Pigeon (Feral Pigeon)  1
Eurasian Collared-Dove  2
Mourning Dove  4
Franklin's Gull  45
Ring-billed Gull  10
Turkey Vulture  3
Cooper's Hawk  1
Red-shouldered Hawk  1
Red-bellied Woodpecker  4
Downy Woodpecker  3
Northern Flicker  2
Eastern Phoebe  8
Blue-headed Vireo  1    
Blue Jay  24
American Crow  12
Carolina Chickadee  10
Tufted Titmouse  8
Brown Creeper  1
Winter Wren  1
Carolina Wren  9
European Starling  60
Eastern Bluebird  11
Hermit Thrush  1
American Robin  200
House Sparrow  30
House Finch  3
Pine Siskin  1
American Goldfinch  20
Chipping Sparrow  5
Dark-eyed Junco  16
Brown-headed Cowbird  4
Great-tailed Grackle  25
Yellow-rumped Warbler  40
Northern Cardinal  18