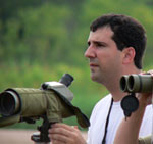 >> Christmas Bird Count Checklist:  (PDF)   |  (Excel)
Fifty hearty souls participated in our December 16, 2017 CBC. It was very windy throughout the day with sustained southerly winds of 15-20 mph (gusts approaching 30 mph). Temperatures were mild with a morning low of 32 degrees and an afternoon high of 61 degrees. Expectations were not high due to the wind but they were sure exceeded once the 21 count teams started reporting – we tallied 127 species (71,881 individuals) through 127.25 collective party-hours (walked 46.33 miles, drove 327 miles) and 1.5 hours of owling.
An immature Snowy Owl was found at Lake Overholser on the bank (far NW corner) and likely was a different owl than the ones recently found at Lake Arcadia and Will Rogers Airport! Other rare birds include two Black-bellied Whistling Ducks (Myriad Gardens), Red-necked Grebe and Pacific Loon (Lake Hefner), American Bittern (little wetland near the Oklahoma River), Neotropic Cormorant (Lake Hefner), Northern Goshawk (near Oklahoma River), Inca Dove (OKC Zoo) and a flock of 40 Red Crossbills in a hedge of Arborvitae at the OKC Golf and Country Club.
Noteworthy birds we're getting a bit spoiled by finding them more on a regular basis include nine Great Egrets, 29 Black-crowned Night-Herons, one Peregrine Falcon (chasing pigeons in the downtown business district), two Lesser Black-backed Gulls, 22 Forester's Terns, 12 Eastern Phoebes and a Blue-gray Gnatcatcher below Lake Overholser.
Also, it was a bonus to get Blue-winged Teal, Eared Grebe, Ferruginous Hawk (dark phase), Merlin, Greater Yellowlegs, Least Sandpipers, Greater Roadrunner, Red-breasted Nuthatch, Winter Wren, Marsh Wren, House Wren, Common Yellowthroat, Chipping Sparrow, LeConte's Sparrow and small flocks of Rusty Blackbirds and Purple Finches.
A small covey of six Northern Bobwhites at Stinchomb Wildlife Refuge was an excellent find and sure uplifting considering their recent decline.
We missed Loggerhead Shrike, Lapland Longspur which is highly reflective of grasslands/agricultural fields that have been converted to development. We also failed to get lucky on Barn Owl as it had been previously found in red cedar (now removed) at Martin Park. We did manage to still log a Tree Sparrow (retreating southern range).
The number of Herring Gulls (13) seemed a bit down but two teams working both Lake Hefner and Lake Overholser tallied two hundred Redbreasted Mergansers (just two Common Mergansers). Another team worked hard to catch 25,000 Red-winged Blackbirds coming off roost.
We also had a couple of noteworthy Count Week birds (found three days on either side of the Count) including 5-6 swans, Red-throated Loon, Townsend's Solitaire and a Vesper Sparrow.
We had a very festive compilation dinner (Johnny's Charcoal Broiler) where kudos were given to John Shackford for his efforts in being the Count compiler/leader for over 10 years while recognizing Bill Diffin's outstanding leadership (outgoing president) and welcoming our new president, Betz Hacker. Also, appreciation was given to Pat Velte for providing invaluable technical support and to Diane Newell and Patti Muzny for being gracious hosts on previous count parties.
Lastly, many thanks to our counters: Nathan Kuhnert, John Muller, Kathleen Tucker, Steve Davis, Mary Lane, Esther Key, Patricia Flanigan, Neil Garrison, Mark Howery, Sharon Henthorn, Dave Woodson, Sue Woodson, Tracy Franco, Ted Goulden, Bob Judd, Patti Muzny, Brian Muzny, Hal Yocum, Larry Mays, Zach Poland, Aaron Meachum, Diane Newell, Brian Stufflebeam, Carole Sullivan, Marion Homier, John Cleal, Bob Holbrook, Betz Hacker, Bill Diffin, Jerry Taylor, Marilyn Taylor, Jimmy Woodard, Valerie Bradshaw, Mark Delgrasso, John Shackford, Warren Harden, Janece Gratch, Jack Tyler, Doug Eide, Charles Douglas, Cody Barnes, Terri Underhill, Brian Marra, Deanne McKinney, Pat Velte, Betsy Hacker, Morton Payne, Matthew Payne, Johnson Hightower and Steve Parker.
We were missing several regulars too as they were attending to family members in need or were sick/ injured themselves. And apologies in advance if I missed anyone as I will be sure to make this correction as soon as possible!
CBC Contact Info:
Nathan Kuhnert, compiler 
nrkuhnert@sbcglobal.net 
(405) 549-4285 
1723 Caddell Lane
Norman, OK 73069       
| | | | | |
| --- | --- | --- | --- | --- |
| Black-bellied Whistling Duck | 2 |   | Great Horned Owl | 7 |
| Snow Goose (white form) | 9 |   | Snowy Owl | 1 |
| Cackling Goose | 312 |   | Barred Owl | 3 |
| Canada Goose | 1802 |   | Belted Kingfisher | 17 |
| swan (sp) | cw |   | Red-bellied Woodpecker | 37 |
| Wood Duck | 5 |   | Yellow-bellied Sapsucker | 4 |
| Gadwall | 302 |   | Downy Woodpecker | 40 |
| American Wigeon | 11 |   | Hairy Woodpecker | 2 |
| Mallard | 1120 |   | Northern Flicker | 42 |
| Blue-winged Teal | 1 |   |     Northern (Yellow-shafted) Flicker | 7 |
| Northern Shoveler | 269 |   | Pileated Woodpecker | 1 |
| Northern Pintail | 77 |   | Eastern Phoebe | 12 |
| Green-winged Teal | 94 |   | Blue Jay | 72 |
| Canvasback | 50 |   | American Crow | 153 |
| Readhead | 16 |   | Carolina Chickadee | 123 |
| Ring-necked Duck | 47 |   | Tufted Titmouse | 44 |
| Greater Scaup | 25 |   | Red-breasted Nuthatch | 2 |
| Lesser Scaup | 184 |   | White-breasted Nuthatch | 1 |
| Bufflehead | 141 |   | Brown Creeper | 9 |
| Common Goldeneye | 46 |   | Carolina Wren | 80 |
| Hooded Merganser | 175 |   | Bewick's Wren | 6 |
| Common Merganser | 2 |   | House Wren | 2 |
| Red-breasted Merganser | 200 |   | Winter Wren | 12 |
| Ruddy Duck | 86 |   | Marsh Wren | 2 |
| Wild Turkey | 5 |   | Blue-gray Gnatcatcher | 1 |
| Northern Bobwhite | 6 |   | Golden-crowned Kinglet | 6 |
| Red-throated Loon | cw |   | Ruby-crowned Kinglet | 28 |
| Pacific Loon | 1 |   | Eastern Bluebird | 23 |
| Common Loon | 8 |   | Townsend's Solitaire | cw |
| Pied-billed Grebe | 58 |   | Hermit Thrush | 3 |
| Horned Grebe | 17 |   | American Robin | 1667 |
| Red-necked Grebe | 1 |   | Northern Mockingbird | 54 |
| Eared Grebe | 3 |   | Brown Thrasher | 3 |
| American White Pelican | 325 |   | European Starling | 16976 |
| American Bittern | 1 |   | American Pipit | 4 |
| Neotropic Cormorant | 1 |   | Cedar Waxwing | 54 |
| Double-crested Cormorant | 518 |   | Common Yellowthroat | 1 |
| Great Blue Heron (blue form) | 90 |   | Yellow-rumped Warbler (Myrtle) | 154 |
| Great Egret | 9 |   | Spotted Towhee | 76 |
| Black-crowned Night-Heron | 29 |   | American Tree Sparrow | 1 |
| Bald Eagle | 1 |   | Chipping Sparrow | 2 |
| Northern Harrier | 9 |   | Field Sparrow | 6 |
| Sharp-shinned Hawk | 4 |   | Vesper Sparrow | cw |
| Cooper's Hawk | 6 |   | Savannah Sparrow | 30 |
| Northern Goshawk | 1 |   | LeConte's Sparrow | 2 |
| Red-shouldered Hawk | 9 |   | Fox Sparrow | 16 |
| Red-tailed Hawk | 63 |   | Song Sparrow | 107 |
|       Harlan's Hawk | 1 |   | Lincoln Sparrow | 7 |
| Ferruginous Hawk | 1 |   | Swamp Sparrow | 1 |
| American Kestrel | 20 |   | White-throated Sparrow | 13 |
| Merlin | 1 |   | Harris's Sparrow | 217 |
| Peregrine Falcon | 1 |   | White-crowned Sparrow | 19 |
| American Coot | 307 |   | Dark-eyed Junco | 339 |
| Killdeer | 27 |   | Northern Cardinal | 267 |
| Greater Yellowlegs | 22 |   | Red-winged Blackbird | 29824 |
| Least Sandpiper | 67 |   | Eastern Meadowlark | 74 |
| Bonaparte's Gull | 699 |   | meadowlark sp. | 208 |
| Ring-billed Gull | 4532 |   | Rusty Blackbird | 12 |
| Herring Gull | 13 |   | blackbird sp. | 2000 |
| Lesser Black-backed Gull | 2 |   | Common Grackle | 54 |
| Forster's Tern | 25 |   | Great-tailed Grackle | 5689 |
| Rock Pigeon | 637 |   | Brown-headed Cowbird | 70 |
| Eurasian Collared-Dove | 230 |   | Purple Finch | 4 |
| White-winged Dove | 19 |   | House Finch | 90 |
| Mourning Dove | 59 |   | Red Crossbill | 40 |
| Inca Dove | 1 |   | Pine Siskin | 2 |
|   |   |   | American Goldfinch | 128 |
|   |   |   | House Sparrow | 115 |
|   |   |   | TOTAL Count Day | 71882 |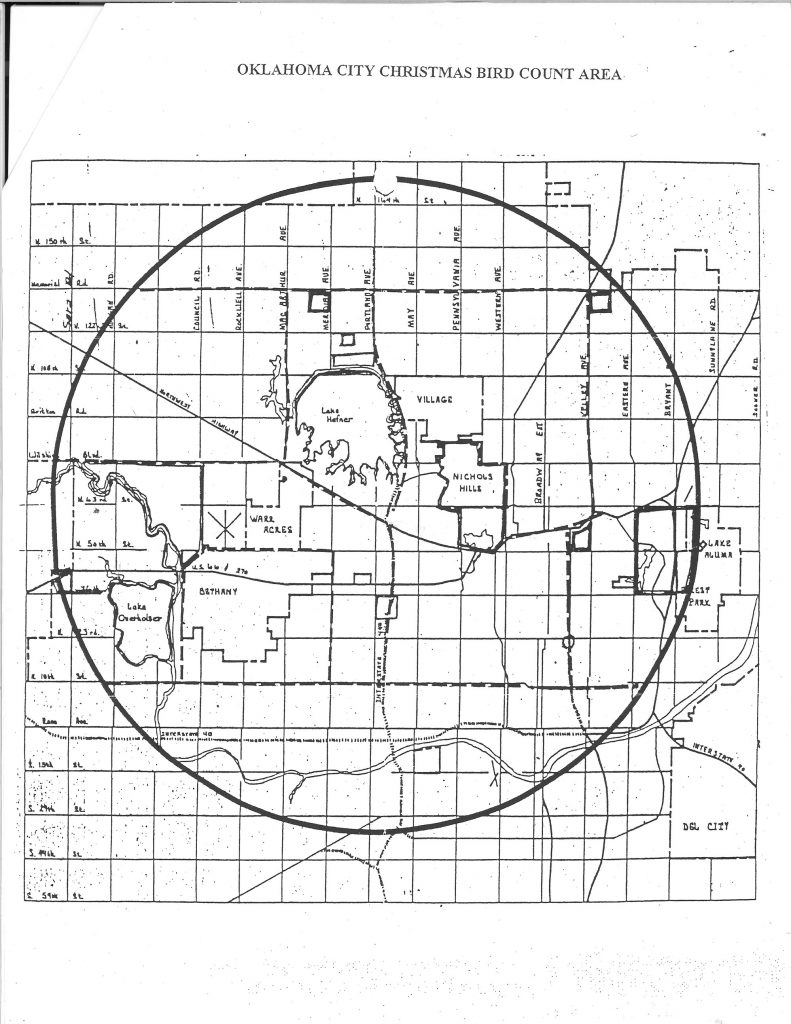 See Audubon's map of all the Christmas Bird Count circles