Location: Lake Stanley Draper, located in far southeast Oklahoma City, is close to I-240 between Midwest Boulevard and Westminister Road. This 2,900 acre lake with 34 miles of shoreline was built in 1963 and the water is supplied by Lake Atoka via a 100-mile pipeline.
Description of the area:   A wide range of habitats —lake, lake shore, marshes, dense "crosstimber" oak forest, woodland edges, roadcuts, roadside and other cut-over brushy areas, open grassland and thickets of Sand Plum, Poison-Ivy, Wild Blackberry and Sumac—attracts an exciting variety of resident and migrating birds.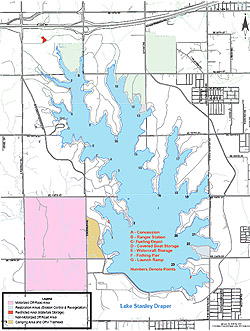 Driving directions: From I-240 take exit #8 onto Sooner Road, turn south go 2 miles to SE 104th , turn east for 2 1/2 miles to the intersection of W. Stanley Draper Drive. Continue thru this intersection to the marina. (Click here for larger/print version of map)
From I-40 take exit # 156A onto Sooner Road, turn south then continue 5 1/2 miles to SE 104th  and follow the directions provided above.
From I-35 take exit # 121B onto I-240 Eastbound then go 4 miles to Sooner Road and follow the directions provided above.
Year-round Residents: Great Blue Heron, Canada Goose, Mallard & Wood Ducks, Red-shouldered & Red-tailed Hawks, Wild Turkey, Northern Bobwhite, Mourning Dove, Greater Roadrunner, Great Horned, Barred & Eastern Screech Owls, Belted Kingfisher, Pileated, Red-headed, Red-bellied, Hairy & Downy Woodpeckers, Northern Flicker, Blue Jay, American Crow, Carolina Chickadee, Tufted Titmouse, White-breasted Nuthatch, Carolina & Bewick's Wrens, Eastern Bluebird, American Robin, Northern Mockingbird, Brown Thrasher, Northern Cardinal, Field Sparrow, Red-winged Blackbird, Eastern Meadowlark, Great-tailed & Common Grackle, House Finch & American Goldfinch.
Spring: Migrants include Osprey, Solitary & Philadelphia Vireos, Rose-breasted Grosbeak, Olive-sided & Least Flycatchers, Swainson's Thrush and Clay-colored Sparrows. Wood Warblers include Tennessee, Nashville, Northern Parula, Yellow, Chestnut-sided, Magnolia, Black-throated Green, Blackpoll, American Redstart, Ovenbird, Mourning and Wilson's.
Summer: Great, Snowy & Cattle Egrets, Little Blue & Green Herons, Black-crowned & Yellow-crowned Night Herons, Turkey & Black Vultures, Mississippi Kite, Broad-winged Hawk, Yellow-billed Cuckoo, Common Nighthawk, Chuck-will's Widow, Chimney Swift, Ruby-throated Hummingbird, Eastern Wood-Pewee & Eastern Phoebe, Great-crested & Scissor-tailed Flycatchers, Eastern & Western Kingbirds, Purple Martins, Barn, Northern Rough-winged & Cliff Swallows, Blue-gray Gnatcatcher, Gray Catbird, Bell's, Warbling, Red-eyed & White-eyed Vireos, Common Yellowthroat, Yellow-breasted Chat, Louisiana Waterthrush, Black & White, Prothonotary and Kentucky Warblers, Summer Tanager, Blue Grosbeak, Indigo & Painted Bunting, Dickcissel, Grasshopper & Lark Sparrows, Orchard & Baltimore Orioles.
Winter: Common Loon, Bald Eagle, Sharp-shinned & Cooper's Hawks, Ringed-billed & Bonaparte's Gulls, Yellow-bellied Sapsucker, Brown Creeper, Marsh & Winter Wrens, Hermit Thrush, Ruby & Golden-crowned Kinglets, Cedar Waxwings, Yellow-rumped & Orange-crowned Warblers, Eastern & Spotted Towhees, Fox, Song, Swamp, White-throated & White-crowned Sparrows and Dark-eyed Junco. Look for wintering Smith's Longspurs in the short-grass (aristida and little bluestem) fields located north of the intersection with SE 104th along West Stanley Draper Drive.
Birding Observation Locations: Birding from the safety of your car is recommended. The low curbing along the paved perimeter road provides easy pull-outs and there are access roads to fishing docks all around the lake.  
Beginning at the marina, check the playground area, boat docks, scan the lake, shorelines and the adjoining grassland. From this point, you may chose to drive the paved perimeter road by going back to the intersection of West Stanley Draper Drive & SE 104th then turn (south) left. There will be several access roads to fishing docks and The Crosstimber Campground that you may wish to explore.
Another option would be to take the first left turn onto the unimproved (red-clay) road and follow this shoreline road which would give you the best birding opportunities for wintering waterfowl as well as woodland species. Both the paved and unimproved roads along the west side will intersect near the dam located at the far south end of the lake.
After crossing the dam, you may again chose to follow the paved perimeter road which becomes East Stanley Draper Drive or the unimproved road, beginning at the intersection with Westminister Road. This unimproved road does not follow the entire shoreline but it loops around a few coves and fishing docks.
At the intersection of East Stanley Draper Drive & SE 89th, turn left (west) onto North Stanley Draper Drive and continue on this paved road for 2 miles until you intersect with Midwest Blvd., then turn left (south). Midwest Blvd./West Stanley Draper Drive will take you back to the marina. 
Words of caution…do not attempt to drive any of these unimproved roads during or after it has recently rained!!  These roads are very isolated and help is not likely to be available. Also, extreme caution should be observed birding in these remote areas if you are alone. Unfortunately, illegal activities have been reported in some of these areas.
RELATED LINKS:
City of Oklahoma City – Lake Stanley Draper
RELATED LINKS: