LOCATION: Lake Hefner
35.58868 N 97.63196 W (Stars & Stripes Park)
35.56241 N 97.61029 W (Prairie Dog Point)
Finding bird "hot spot" locations in Oklahoma City can be made easier with an understanding that the city is laid out in a grid with main streets approx. one mile apart. The east-west streets are typically numbered; north-south streets are named. The major highways with routes through the metropolitan area are I-40, I-35, I-44 & I-240, Broadway Extension, Hefner Parkway, and the Kilpatrick Turnpike.
Lake Hefner is an impoundment located in northwest Oklahoma City. It was built in 1947 and serves as one of Oklahoma City's water reservoirs. The lake receives water through a canal on the southwest side that brings water from the North Canadian River at the northeast margin of Lake Overholser.
Lake Hefner covers 2,500 acres with an average depth of 29 feet. A bicycle ride or walk around the lake is a distance of about 11 miles. The 3-mile dam is located along the north side of the lake, somewhat parallel to Hefner Road, between Hefner Parkway and MacArthur with one-way, east-bound car traffic and a walking/bicycling lane. The deepest water (94′) is along the dam. The dam, most of the west side and all of the east side of Lake Hefner are a rock revetment. The most consistent mud flats are located along the southwest corner.
Birding around Stars & Stripes Park Directions: From I-40 proceed north on I-240/OK74 that becomes Hefner Parkway north of 39th Street. Exit west at NW Highway, west to Portland and north to the lake for access to the south side. Portland ends where it intersects with S. Lake Hefner Drive, the location of Stars & Stripes Park. The park offers walking trails, playgrounds and good shoreline for gulls and terns. The hiking trails in the immediate area of the park offer interesting birding with a mix of grass, woods, shrubs and shoreline.
From Stars & Stripes Park there are hiking trails that access all sides of the lake. There is also a quasi creek that ends south of the road. Water birds in this area are primarily dabbling ducks, geese, and waders. The south side of Lake Hefner offers a great diversity of habitat as there are many trees, mowed areas, undisturbed habitat, and cedar plantings. The lake in this area has many fingers or small coves that are easily accessed by the path. There is only a small amount of marshland. When the lake level is low there are extensive flats at "Hobie Point" or the Riversport Sailing Center that is well marked on the Lake Road a few hundred yards west of Portland Ave. (Download/print map of Lake Hefner)
Prairie Dog Point: Of special interest to birders is Prairie Dog Point, located at the southwest corner of the lake (see map below). Birders from across Oklahoma visit this location during spring and fall migration, as well as during the winter months when sightings of rare birds are often reported. Recent sightings at Prairie Dog Point include Whimbrel, Piping Plover, Long-billed Curlew, Dunlin, Sanderling, Ruddy Turnstone, Short-billed Dowitchers, White-faced Ibis, Snowy Plover, and Western Sandpiper. California Gull, Least Tern, Common Tern, and Lesser Black-backed Gull were also sighted.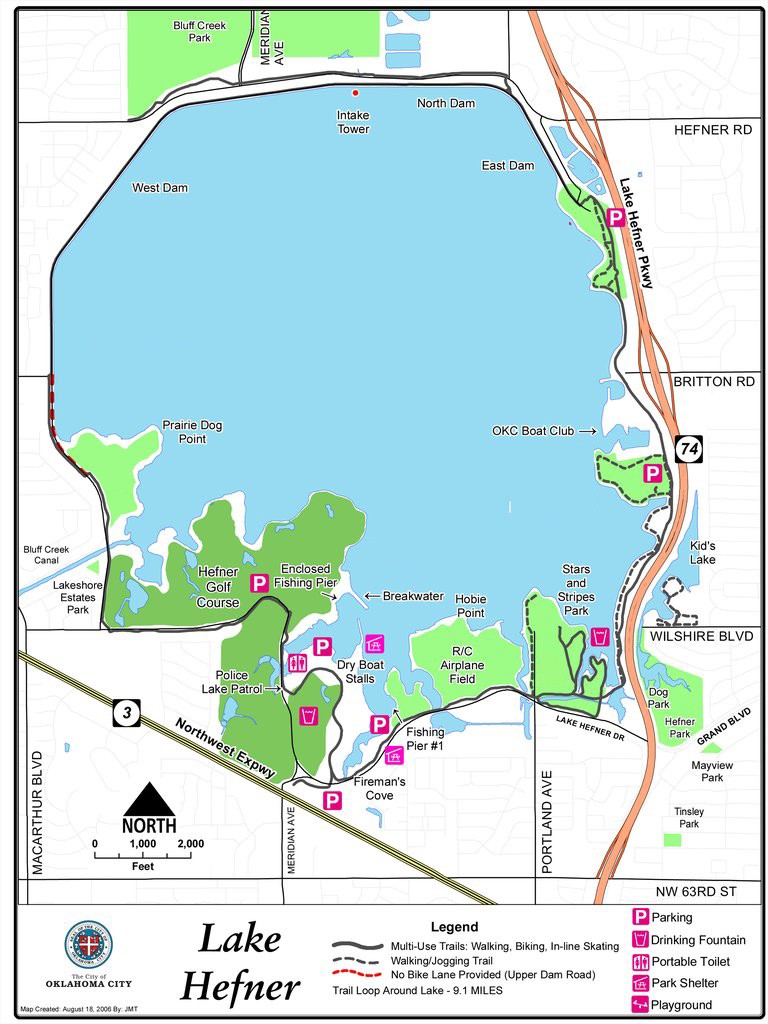 Other nearby areas of interest include: Bluff Creek Park — this Oklahoma City park is located below the Lake Hefner Dam with an entrance at Hefner Road and Meridian. In addition to the playground and picnic area, the park area includes a mountain bike course with trails through various interesting bird habitat including small ponds, streams, woods, and open grassy fields. This area is a good location for spring and fall migrant warblers.
Nichols Hills Park — located east of Pennsylvania on Grand Blvd.
Dolese Youth Park — this youth sports complex is located on the site of a former sand pit. There is a small lake, wooded areas that include a disc golf course and picnic pavilion areas. Dolese Youth Park is located on NW 50th, just west of Meridian (about 3 miles from Stars & Stripes Park).
Lake Hefner unofficial bird sighting list:
Cackling Goose
Canada Goose
Snow Goose
Wood Duck
Gadwall
American Wigeon
Mallard
Blue-winged Teal
Northern Shoveler
Northern Pintail
Green-winged Teal
Canvasback
Redhead
Greater Scaup
Lesser Scaup
Bufflehead Common
Goldeneye
Hooded Merganser
Common Merganser
Red-breasted Merganser
Ruddy Duck
Red-throated Loon (rare)
Common Loon
Pacific Loon (rare)
Yellow-billed Loon (rare)
Pied-billed Grebe
Horned Grebe
Eared Grebe
American White Pelican
Neotropic Cormorant (rare)
Double-crested Cormorant
Great Blue Heron
Great Egret
Snowy Egret Little
Blue Heron
Tricolored Heron (rare)
Cattle Egret
Green Heron
Black-crowned Night-Heron
Yellow-crowned Night-Heron Glossy Ibis
White-faced Ibis
Osprey
Mississippi Kite
Bald Eagle
Sharp-shinned Hawk
Cooper's Hawk
Red-shouldered Hawk
Red-tailed Hawk
American Kestrel
Merlin
Peregrine Falcon
American Coot
Sandhill Crane (rare)
Black-bellied Plover
American Golden-Plover
Snowy Plover
Semipalmated Plover
Piping Plover
Killdeer
American Avocet
Lesser Yellowlegs
Willet
Spotted Sandpiper
Upland Sandpiper
Whimbrel
Long-billed Curlew
Hudsonian Godwit
Marbled Godwit
Ruddy Turnstone
Sanderling
Semipalmated Sandpiper
Western Sandpiper
Least Sandpiper
White-rumped Sandpiper
Baird's Sandpiper
Pectoral Sandpiper
Dunlin
Stilt Sandpiper
Short-billed Dowitcher
Long-billed Dowitcher
Wilson's Snipe
Wilson's Phalarope
Laughing Gull (rare)
Franklin's Gull
Bonaparte's Gull
Ring-billed Gull
California Gull
Herring Gull
Thayer's Gull
Lesser Black-backed Gull
Sabine's Gull (rare)
Caspian Tern
Common Tern (rare)
Forster's Tern
Least Tern
Black Tern
Rock Pigeon
Eurasian Collared-Dove
White-winged Dove
Mourning Dove
Inca Dove (rare)
Yellow-billed Cuckoo
Common Nighthawk
Chimney Swift
Ruby-throated Hummingbird
Belted Kingfisher
Red-headed Woodpecker
Red-bellied Woodpecker
Downy Woodpecker
Northern Flicker
Olive-sided Flycatcher
Least Flycatcher
Eastern Phoebe
Eastern Kingbird
Western Kingbird
Scissor-tailed Flycatcher
Loggerhead Shrike
Blue-headed Vireo
Warbling Vireo
Blue Jay
American Crow
Horned Lark
Purple Martin
Northern Rough-winged Swallow
Cliff Swallow
Barn Swallow
Carolina Chickadee
Brown Creeper
Carolina Wren
Bewick's Wren
House Wren
Sedge Wren
Golden-crowned Kinglet
Ruby-crowned Kinglet
Eastern Bluebird
American Robin
Gray Catbird
Northern Mockingbird
Brown Thrasher
European Starling
American Pipit
Cedar Waxwing
Orange-crowned Warbler
Nashville Warbler
Northern Parula
Yellow Warbler
Black-throated Green Warbler
Black-and-white Warbler
American Redstart
Spotted Towhee
Chipping Sparrow
Clay-colored Sparrow
Vesper Sparrow
Lark Sparrow
Savannah Sparrow
Fox Sparrow
Song Sparrow
Lincoln's Sparrow
White-throated Sparrow
Harris's Sparrow
White-crowned Sparrow
Dark-eyed Junco
Northern Cardinal
Red-winged Blackbird
Eastern Meadowlark
Yellow-headed Blackbird
Brewer's Blackbird
Common Grackle
Great-tailed Grackle
Brown-headed Cowbird
Orchard Oriole
Baltimore Oriole
House Finch
Pine Siskin
American Goldfinch
House Sparrow
RELATED LINKS: