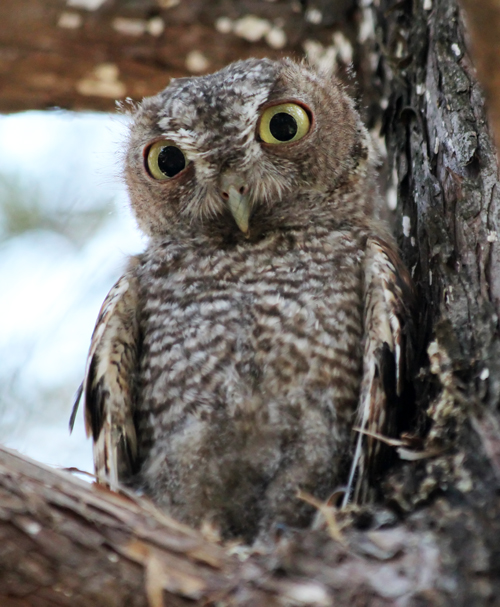 The Eastern Screech-Owl (Megascops asio) can be a nemesis bird on our Christmas Bird Counts. I suspect that there are at least several dozen of them within our count circle each year, but often we have a hard time finding just one. They are nocturnal and the best chances to find them are to hear their calls at night or watch for them at a roost hole at dusk. For many years, Vic Vacin, a member who is no longer living, had one in a birdhouse he had made. On count day someone would go out to Vic's birdhouse about dusk and the bird would always appear at the entrance to the box. In recent years members Jim and John Bates usually have been able to locate an Eastern Screech-Owl by hearing it call, usually in response to a taped call they play. I think Jim and John tallied the first bird on count day last year by going out about 5 minutes after midnight and getting one to answer a tape. Nice work, guys!
Perhaps 20 years ago another birder and I were either scouting or actually on the bird count on what is now the east side of Stinchcomb Wildlife Refuge. I had heard somewhere that once in a while a screech-owl would appear at a woodpecker hole if you rapped on the bottom of a tree that had such a hole in it. We came upon a dead tree with a hole near the top, maybe 18-20 feet high. I rapped on the tree, and much to my surprise, the whole tree fell down! There was a pause for a second or two, then out flapped a screech-owl! I don't think he was hurt, but he probably did have a bit of a headache.
Warren Harden once took over Dr. George Sutton's banding permit: Doc gave it up because he became so frustrated trying to do exactly what the Bird Banding Laboratory expected of him. Warren, in true Warren fashion, extended the scope of Doc's original license to include up to 10 sub-permittees! Warren kept up with the tremendous amount of paperwork involved and also kept good rapport with the Bird Banding Lab, which was not always that easy. Amazing! Once, when several people including Warren, were banding birds just north of the coffer dam at Lake Overholser, we left nets up all night. The next morning we had a number of birds in the nets, including a screech-owl. But the owl appeared done for—it was severely tangled in the net and was not moving. So we decided to untangle and band the other birds first. Finally, we took the screech-owl out of the nets, and to everyone's surprise, the owl opened an eye or two to look at us: it was still alive, with no apparent damage when we let it fly away!
Dr. Sam Moore once picked up a screech-owl as a road kill on a Nichols Hills street. He took it home and put it in his refrigerator freezer to save it for someone to salvage as a study skin. At least 2 days later Sam's housekeeper opened the freezer door, and to her amazement, there sat the screech-owl, looking back at her with 1 eye open, apparently alive and well. These owls can play possum better than possums.
This Bird of the Month is brought to you because I forgot, until most of this column had been written, that I had written about this species before, three years ago, in November 2009. But most of the material here is fresh, so please indulge me anyway.
This does bring up a good point—I am getting shorter and shorter on birds about which I have much personal information to relate. If anyone has a good story or two to relate about a particular bird, or a particular bird you would like to cover, please feel free to contribute a Bird of the Month column; if need be, I would be delighted to help you pull such a column together and flesh it out. (Article length usually runs a little more than one page, single line spacing; my email address is: johnsshack@aol.com.) Think about some of your favorite birds and stories, and let us know about them!