by Patti Muzny
The month of February has sort of catapulted across our lives with an amazing spectrum of weather extremes.  The humans must center their activities around what Mother Nature throws at us, as do our feathered friends.  I think we're better prepared than the birds and other critters.  Maybe.  My idea of what to do when we get an early March freezing rain, thunder sleet, snow and howling north wind weather event on a stay-at-home Sunday, is watch my hubby bundle up and fill the feeders and dig out the heat lamp, while I sip green tea from my perch inside the house.
During the beautiful weather we've had off and on, our feeder activity slowed down and everything started singing.  The day before the cold came in, the Bewick's Wren was tirelessly singing at every nest box in the yard.  The Robins, Mockingbirds and Cardinals followed his lead.  White-winged and Collared Doves were also singing and chasing each other. Green things began to peek out of the ground in anticipation of warmer weather.  I planted a few early spring seeds and we cleaned up most of our yard debris.  Then came Sunday's reality check.  If something's trying to grow beneath the ice and snow, it doesn't need me to supervise it!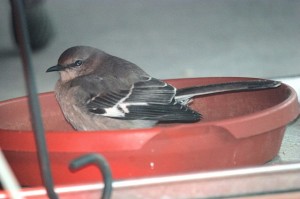 The heat lamp is out and the saucers filled with crushed pecans.  The Mockingbird found the lamp and pecans and has spent quite a lot of time just absorbing the warmth of the light.  The lamp and nuts are placed up under our covered patio and close to the den windows.  The English Sparrows and blackbirds tend to avoid coming so close to the windows, so these nutty offerings last much longer.  The rest of the birds utilize the feeders with sunflower seeds that are along the fence, and the heated water dishes.
We have acquired a Red-shouldered Hawk in the neighborhood and in late February, Brian saw our resident Cooper's engage in a rather intense territorial confrontation.  The Cooper's seemed to win that one.  On his way to work Brian also saw a Merlin perched along SW 59th Street and I-35.  Our House Finches have finally begun to sing in our yard and also at the State Capitol.
Spring is trying to make an appearance and it seems we will have to just be patient.